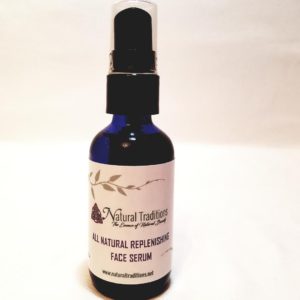 Our amazing facial serum is made with organic oils and a proprietary blend of 100% pure, unadulterated essential oils. The essential oils in this serum have been scientifically proven to improve skin appearance. Lavender has been known to correct a wide range of skin conditions and Frankincense is known to tighten skin, diminish wrinkles and evens out skin tone. It may also aide in reducing the appearance of dark spots. Helichrysum has commonly been used for psoriasis and eczema. Our serum helps replenish moisture and gives the skin a healthy glow. It can be used alone or under your moisturizer. Ylang Ylang has also been commonly used in skin treatments to improve skin tone. Along with Lavender and Frankincense, Melaleuca is a strong antiseptic that helps in healing the skin. Myrrh has anti-inflammatory and astringent properties which is great for the skin.The serum comes in a 1 oz and 2 oz container with a treatment pump.
Ingredients: Avocado oil, Essential oils of Lavender, Frankincense, Helichrysum, Ylang Ylang, Melaleuca, and Myrrh, Vitamin E oil
Directions: Use 1-2 pumps and massage into face, neck, and decollete for 1 minute. Let soak in. For best results, use after our Facial Wash AM and PM.