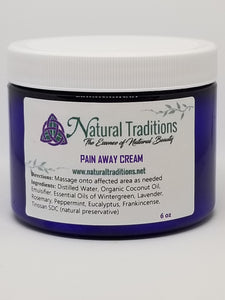 Our pain cream is made with organic coconut oil and organic essential oils. Every essential oil in this cream has analgesic (pain relief), anti-inflammatory, and anti-spasmodic properties. May assist with relief from arthritis, menstrual cramps and sore muscles/joints.  The cooling effect is felt almost immediately and pain relief can be felt within 10-15 minutes for most people. This product comes in a 6 oz jar. 
Directions: Massage into affected area as often as needed for relief. 
Ingredients: Distilled water, Organic Coconut oil, Emulsifier, Essential oils of Wintergreen, Lavender, Rosemary, Peppermint, Eucalyptus, Frankincense, and Tinosan SDC (natural preservative).
$12.00