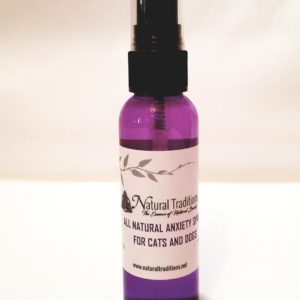 Our all natural anxiety spray for cats and dogs is made with only 100% pure, unadulterated essential oils. This blend aids both cats and dogs when they are feeling anxious or stressed. Use before an anxious/stressful event or once they appear to be anxious to bring relief and calmness.This product comes in a 2 oz bottle with a fine mist sprayer.
Ingredients: Distilled water, Essential oils of Lavender, Cedarwood, Vetiver, and Frankincense.
Directions: Apply to bedding and topically along spine 15 minutes before high anxiety or stressful event. For cats, you may need to spray your hands and then rub into fur/skin. SHAKE WELL BEFORE EACH USE. AVOID SRPAYING IN PET'S FACE.