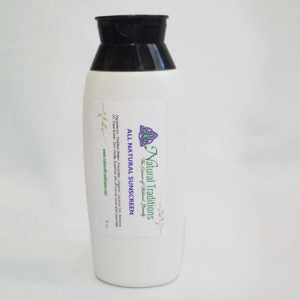 Our amazing sunscreen is made with all natural and organic ingredients that help protect and nourish the skin. It's moisturizing and feels great on the skin and smells wonderful, not like big name brand sunscreens. All ingredients in this product have an SPF factor, with Carrot Seed essential oil and Zinc Oxide being the highest. Because it has not been evaluated by the FDA, the exact SPF content is not known, but it is at least SPF 20, but more likely higher.This product comes in a 4 oz size.
Ingredients:
Distilled water, Organic Coconut oil, Emulsifier, Zinc Oxide, Organic Almond oil, Organic Shea Butter, essential oils of Carrot Seed and Lavender.
Directions: Massage into skin prior to sun exposure. Re-apply every 4-6 hours.