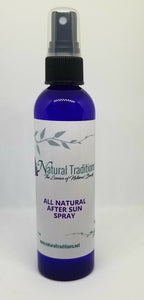 Our natural After Sun Spray is made with all natural/organic ingredients and 100% pure, unadulterated essential oils that rejuvenate the skin after sun exposure. This spray assists in healing sun burns, but has been known to also assist in healing all kinds of burns as well. It has a great scent and is very moisturizing and soothing to the skin. can also be used to rehydrate skin after sun exposure. This product comes in a 4 oz bottle with a fine mist sprayer.
Ingredients: Organic Witch Hazel, Organic Aloe Vera Gel, Essential oils of Peppermint and Lavender
Directions: Spray directly on skin and let it soak in. Can be used as often as needed to assist healing.